Excerpts and Discussion on Inner Voices: Sex, Intimacy & Aging
Date/Time
Date(s) - Thursday, January 18, 2018
1:00 pm - 2:00 pm
Location
Friendship Centers,
Categories
Friendship Center for Aging Studies and Arts For Health Sarasota Manatee, Inc. present:
Through the eyes and hearts of different characters, experience excerpts of Hedda's performance that will share truths about sex, intimacy, and aging. Enjoy Hedda's ability to dig deeper into each character's emotions bringing laughter and joy and touching hearts.
To register, call 941.556.3263 or visit us online at centerforagingstudies.org
Presented by Hedda Matza-Haughton, LCSW
January 18 • 1:00 – 2:00 pm • $25
Friendship Centers, 1900 Brother Geenen Way, Downtown Sarasota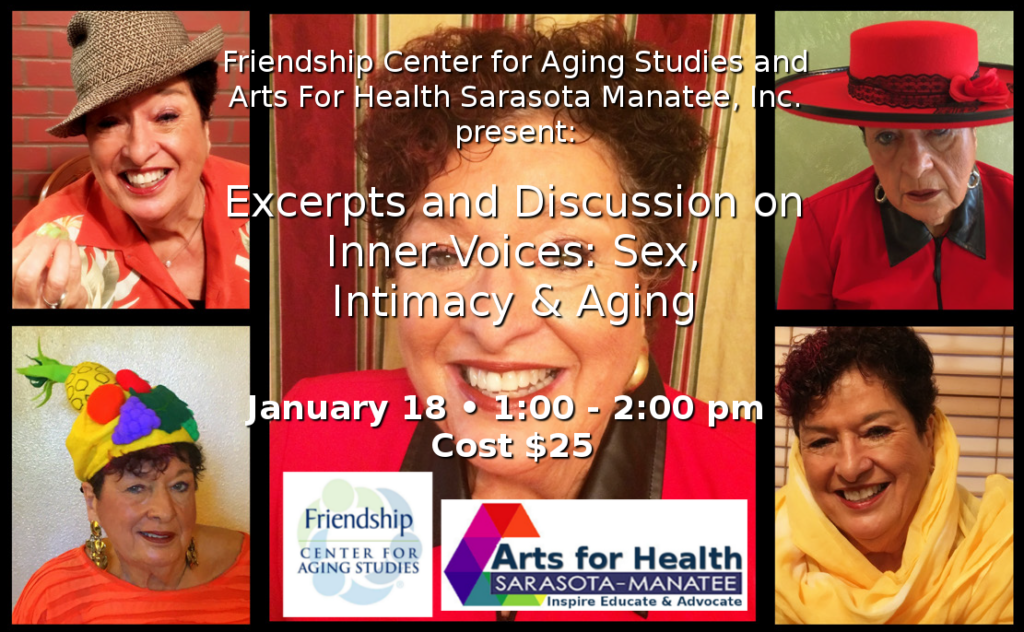 Hedda Matza-Haughton, LCSW is an actor, drama director, teaching artist, consultant and health educator who has been integrating drama into her work in schools and other community settings locally and nationally for over 25 years. She has also performed monologues on a variety of life issues, as part of education and prevention programs.
Hedda has a BA in Sociology/Education, a Masters in Social Work, and has studied improvisational drama in NYC. She is the president of "For the Health of It" consultation services and one of the founders and current co-chair of Arts for Health Sarasota-Manatee.