Donna Papenhausen – Expressive Arts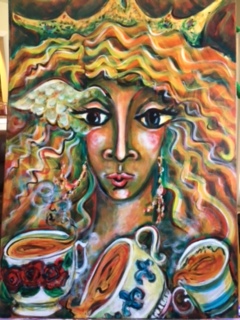 Donna Papenhausen. I was excited to see one of our AFHS-M Professional Members pictured next to her paintings. Then, I became more excited thrilled when I realized the photo was of Donna at her art opening. I recall the first time I met Donna, it was at the Expressive Arts Florida, Pat B. Allen workshop, March 2014. Donna's reflective drawing of a Goddess was powerful and moving to me. It touched my heart. I am delighted Donna is putting more of her great energy and talent into the world. I thought it would be nice to put an article sharing Donna's experience and artistic philosophy. Donna was gracious to respond to my questions. Please take a moment to get to know Donna, her creative process, and artistic values.
Why do you feel making art is important is important?

I feel making art is important because it is another way to communicate.  Art is a way to express things for which we have no words.  It brings inner ideas, sensations, emotions, concepts into form so we can understand and begins to speak about them.  Art allows a way to communicate beyond words and culture.  Art relieves stress and brings healing to body, mind, and spirit.  Art gets us in touch with our bodies.  In a world that is so heady, we often lose touch with the emotional content of life.  The arts bring us back to that visceral experience that connects all humanity.  I can go on and on about why we need to make art!! 

Why is creating important to you?

Art is important to me because it helps me to understand myself and my relationship to others and to God And it allows me to share that with others.

What inspired your work?

    Although I've been a painter for 50 years, my work underwent a transformation when I began my expressive arts training in 2010.  Before that time my inspiration came from the outside world.  During my training, my inspiration came increasingly from my inner, psychological and spiritual world.  Most recently my work has been inspired by Shiloh Sophia and her philosophy of Intentional Creativity

How did you develop your creative process?

     My creative process really began to develop as an intentional practice upon the death of my husband in 2014.  I used painting and writing to process my grief.  During that time, I discovered the work of Shiloh Sophia through another Expressive Artist friend I met online.  I admired the style, richness and spiritual depth of the work she posted.  When I asked her about her process, she pointed me to Shiloh's website.  Once there I discovered Intentional Creativity, the 13-step painting process, and Shiloh Sophia.  It was a perfect fit with the work I had been doing and the events of her life path connected in many ways with my own.  I began to study with her online, taking classes.  This March I began my training in the Color of Woman program in Intentional Creativity to be a teacher and facilitator of the IC process.

What is the best part, for you, in creating?

     The best part for me in creating is giving free reign to spontaneity on the canvas, allowing my Muse to show me what needs to emerge into the world for my benefit and the benefit of my Beloveds. 

What media do you prefer? Do you use other media?

     The medium I use most is Golden Liquid Acrylic paints on canvas.  I do use many other media.  In the work I do with patients, at Health South Rehabilitation Hospital, as part of the Art in Healing Team, I use many different media.  In my teaching of Intentional Creativity at Expressive Arts Florida, I use acrylics, watercolor paper, markers, writing, meditation and rhythm instruments.

How can other people learn to create?

 People can learn to create by being intentional about it.  It can be as simple as taking a stack of paper and colored pencils or markers and "playing" each day.  Writing down thoughts or words or drawing or doodling images that come to mind.  We have been taught by our culture that only certain people can be artists.  This is not true.  We are all artists at birth, just ask a 3-year-old!  Another way to release your creativity is to take an Expressive Arts class.  In class, you will find a supportive, non-judgmental container where it is safe to explore while being guided by a trained facilitator.

How can people work with you?

  People can work with me one on one by contacting me at 

revdpap@aol.com

 or by taking one of my frequent classes at Expressive Arts Florida Institute, 200 S. Washington Blvd, Suite 1, Sarasota, FL, 34236  My classes can be found listed on their website: 

www.expressiveartsflorida.com

Why did you decide to submit your work?

 I decided to submit my work to be accepted by J and J Gallery for several reasons.  First, I have been showing my work in churches for the last couple of years and seeking gallery representation is the next step in growing my visibility as an artist.  Second, is an affirmation of my belief in my work's ability to speak to others.  Third, being shown in a gallery increases my exposure as an artist and teacher and it will help me to connect with others who will benefit from my classes to help me grow my business.

Where can we see your work? When can we see your work?

You can see my work at J and J Gallery, 8131 Lakewood Main Street, Suite M-106, Lakewood Ranch, Florida, Mon.-Thurs. 10am-8pm, Fri. and Sat. 10am-9pm, and Sun.12pm-5pm.