God is in Everything: A Bedtime Story for Little Ears
Marcia "Muff" Calderon has become a children's book author. She has self-published (as Marcia Calderon) God is in Everything: A Bedtime Story for Little Ears. She came up with the idea at a weekend silent retreat and says the writing went pretty fast. It's available on Amazon.
"It's a non-denominational book, like a prayer to read before bed for children up to about age five," Muff explains. "It's beautifully illustrated by my longtime friend and coworker in the printing business, Paulette Boudreau, who combined her original watercolors with photography to show how God is present in all animals, nature, lizards, and frogs, every leaf and every tree, even you and me."
While the book has a strong spiritual component, Muff's primary motivation was to promote reading to kids.
"With all of the technology today, I sure hope it's not a lost art," she concludes. "I loved collaborating with my friend Paulette, so who knows, another book may be in our future.",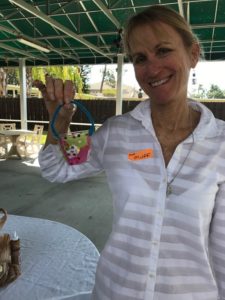 Like many other expressive arts practitioners, Marcia "Muff" Calderon discovered the expressive arts later in life. And, like others, she drew on a foundation in art, healthy living and spirituality to forge a path to becoming a healer herself – and more recently, a children's book author.
"You could say I've been an artist my whole life," says Muff, whose family moved from the Midwest to Sarasota in 1974. "My grade school art teacher first noticed I had some artistic ability. I participated in art shows throughout school and college, practically living in the art department at what was then known as Manatee Junior College – now State College of Florida." Still in her twenties, Muff joined the family business – Donnelly's, a well-known Sarasota printing company– as a graphic artist, then art director, working alongside her father and three brothers.
Muff had started on a spiritual path from an early age. She began meditating in high school and became involved in the Self-Realization Fellowship, a worldwide religious organization founded in 1920 by Parmahansa Yogananda, widely revered as the father of Yoga in the West. The organization states that it "seeks to foster a spirit of greater understanding and goodwill among the diverse peoples and religions of our global family, and to help those of all cultures and nationalities to realize and express more fully in their lives the beauty, nobility, and divinity of the human spirit."
After 30+ years in the printing business, Muff enrolled in the Art & Healing certificate program at Ringling College of Art + Design after a friend in the program showed her one of her textbooks.
"I just loved it and knew it was meant for me," recalls Muff, who entered the program about ten years ago. "I always thought that I'd end up in a health-related field, which is why art and healing was just perfect for me." Muff rides her bike, kayaks, snowboards in winter, has been a vegetarian for 40 years, and generally adheres to a healthy lifestyle.
So it's no surprise that she started volunteering at local rehab facilities even before she graduated, going with her dog as pet therapy, then moving on to paid work with residents of the rehab program. Later she conducted weekly workshops with a social group at Jewish Family & Children's Services (JFCS), a job she acquired through her connection with Arts for Health Sarasota-Manatee.
"Some participants had memory issues, which inspired me to learn more about how expressive arts works with dementia and Alzheimer's," says Muff. That brought her eventually to Pines of Sarasota Rehabilitation and Senior Care Community, where she has been co-leading an inter-generational expressive arts program for over a year.
Connecting the Generations
Initially, Muff and art + health facilitator Cynthia Bydlinski worked directly with select patients, first as volunteers then as paid contractors. Then Pines received a grant for an inter-generational group program and asked if they would lead it.  The two of them reached out to Tamara Teeter Knapp to join them, since Tamara had been an elementary art and education teacher and led many specialized expressive arts programs for children. Like Muff and Cynthia, Tamara was "one of their own," a graduate of the Ringling program (and now one of the partners of Expressive Arts Florida Institute).
"We share the responsibilities of planning and conducting the sessions, and we have truly loved the work building connections between the residents (the 'grands') and the children from the day care on campus," says Muff.  "It's been so fulfilling and heartwarming. My favorite part is when the children thank the grands and give them a hug at the end of the session." There have been two groups, with the younger children coming to The Garden, a memory unit, and the older children coming to the Skilled Nursing unit.  Each group has met once a month.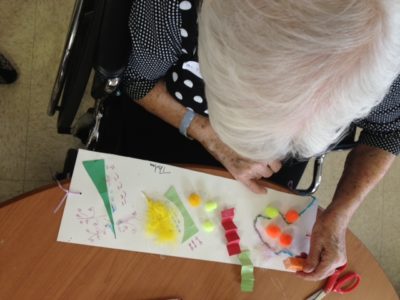 Each of the facilitators has decided for her own personal reasons to leave the inter-generational program this January. (Muff will be spending much of the winter in Colorado, where she and her husband have a second home, and Tamara is working on a master's degree in counseling. Cynthia plans to continue to do expressive arts work at Pines and elsewhere.) All three feel that it has been a very powerful and meaningful program, and plan to do a few special sessions with the children and grands in 2019.
"It's been so rewarding, but after more than a year, it seems like a good natural ending time for each of us," said Muff.  "I will always carry in my heart some of the comments that our grands made about the program. Those sentiments included 'Awesome from beginning to end,'  'The kids fill me up,' 'You created a lovely memory for us, thank you!' and "I just love it when the kids come, they just brighten my day.'"