The Healing Power of the Arts Tapping the Therapeutic Value of Creativity
Article by Linda F. Joffe
Author's note: An edited version of this article appeared in the Sarasota Herald Tribune's Style Magazine on February 21, 2021. That article can be viewed at https://sarasotaheraldtribune-fl.newsmemory.com/?special=Style.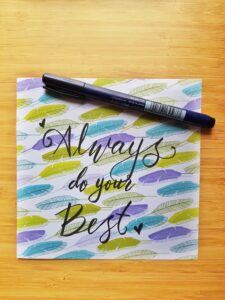 The arts have a powerful impact on our world. They can illuminate both minds and hearts, thus becoming a force for well-being. Beyond viewing performances or strolling through museums, the therapeutic value of the arts for people with a myriad of challenges is without question.
With our area's rich local resources, it shouldn't come as a surprise that direct engagement with the arts –music, singing, movement, visual art, and theater– is serving as a tool for healing for people of all ages and abilities. We even have a not-for-profit organization, Arts for Health Sarasota-Manatee, that inspires, educates, and advocates for the integration of arts and health, and also promotes local practitioners.
Here are just some of the awe-inspiring healing arts partnerships that are helping to make a profound difference in our community. We invite you to check out each organization's website for more information about current offerings.
Health Care Providers
When you add music or art to good medicine and skilled care, you have a potent combination with both physical and emotional benefits. Some of the pioneers in this burgeoning field are right here in Florida, most notably Moffitt Cancer Center's Arts in Medicine program and UF/Shands Arts in Medicine, in conjunction with online master's degree or graduate certificates from UF's Center for Arts in Medicine.
Hospital Arts Integration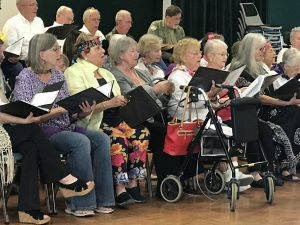 Recipient of the Arts and Cultural Alliance's 2013 Arts Leadership Award, Sarasota Memorial Health Care System (SMHCS) started down the path of the healing arts nearly 20 years ago, thanks to the advocacy of Elizabeth Bornstein, licensed oncology and advanced palliative and hospice-certified social worker. Bornstein currently oversees and provides oncology outpatient counseling at the Brian D. Jellison Cancer Institute. She has advanced training in mind-body medicine and expressive arts.
"When I was working in the in-patient setting, I felt there needed to be another way to help people move through these challenges without depending on words," says Bornstein. "I began by bringing my own creativity to patients and families, and encouraged the hospital to develop more arts-based programming overall." In 2008, she spearheaded a weekly Open Studio Creativity Group for cancer patients and their loved ones.
Since then, SMHCS has developed programs such as art at the bedside and in common spaces, music listening and therapy, and collaborations with outside artists, arts-based therapists, and organizations such as The Ringling. It also retains an advanced practice nurse charged with coordinating all of the integrative and arts-based initiatives within the hospital system, from pet therapy to music and the visual arts.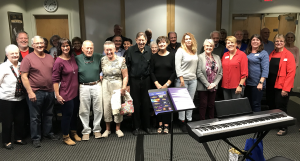 According to Bornstein, the benefits of arts integration are tangible: reducing stress and anxiety, lowering blood pressure, improving sleep, decreasing the perception of pain and nausea, and boosting the immune system. One of the more powerful tools she uses is the creation of an art and writing journal.
"In these times, it's been a real lifeline," comments Bornstein. "With a few simple art supplies, cancer patients and loved ones can create a visual journal in their own homes… It's a way to cope with chronic, enduring illness, and tells an ongoing story. Every page is a moment in time that one can review and reflect on."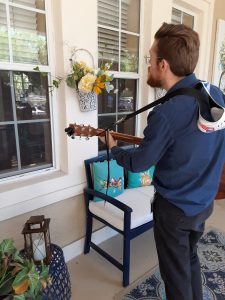 In an exciting new initiative, Sarasota Memorial is collaborating with The Ringling Museum to launch virtual tours of the art museum for hospitalized patients using an Ohmni robot through a grant from the Community Foundation of Sarasota County.
"The patient uses an iPad to connect right from their hospital bed via video to the robot, which is inside the museum with the tour facilitator," explains Laura Steefel-Moore, director of educational programs at the museum. "The goal of these sessions will be to use the art in our collection to provide uplifting conversation and a sense of shared human connection."
Respite During Rehab
With its Creative Connections program, Encompass Health Rehabilitation Hospital of Sarasota (formerly HealthSouth) is another innovator in this field. The short-term facility focuses primarily on visual art.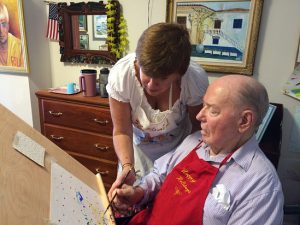 "Most of our patients have neurological issues resulting from stroke, Parkinson's, and brain trauma," says Creative Connections Director Linda Odom, a graduate of Ringling College's former Art & Healing certificate program. "Weekends include expressive arts classes, an Open Studio and/or Art at the Bedside, and perhaps a special class like a collage." Making art represents a break from what Odom describes as "boot camp," rehabilitation, where each patient has scheduled a minimum of three hours of therapy a day for five days of the week.
While many of the patients are delighted to be offered an art class, others are initially skeptical but do come around. Odom cites the example of a former high school coach, still fairly young, who had severe consequences from a stroke but could still walk.
"I told him I needed help putting out the paper and art supplies," she recalls. "I encouraged him to move around the table and draw on each piece of paper. By the end of 25 minutes, it was a real mess, but he was happy, and so was his wife, who had been given a brief respite from her caregiver duties. Even the nurses were laughing and smiling."
Creative Connections also has a partnership with the Neuro Challenge Foundation for Parkinson's to lead expressive art sessions on an outpatient basis. 
Staff Training
The Ringling has a multi-faceted, ongoing partnership with Sarasota Memorial Hospital that includes training at the museum as part of the mandatory orientation program for new nurses. The initiative enhances observation skills and moves nurses outside their comfort zone to think critically, and from multiple perspectives.
"We are also working with SMH to provide Visual Thinking Strategies gallery sessions for their employees outside of the nurse training program," says the museum's Laura Steefel-Moore. "These are open-ended, facilitated discussions about art, intended to increase critical thinking, empathy, communication, and observation skills."
The Florida Department of Health-Manatee recently collaborated with Arts for Health Sarasota-Manatee. Co-chair Lisa Richardson, a Venice-based master's level art therapist, created a mural in the travel clinic along with expressive artist Marcia Calderon. Co-chair Hedda Matza-Haughton, master's level social worker teaching artist and actor, conducted customer service training for the entire staff using improvisational drama to help them understand different viewpoints and cultures. Matza-Haughton, whose trademark program is "Laugh For the Health of It," also taught the staff how to apply the benefits of laughter to their work and personal lives.
"We're always looking to improve health outcomes, so we thought we'd use drama to act out situations with difficult clients," explains Jennifer Bencie, MD, who is the Manatee County Health Officer and medical adviser to Arts for Health. "The training made a real difference, and was much more meaningful than a passive slide show."
Bencie believes that more needs to be done to broaden the scope of the science behind medical treatment to include activities like music, art, and dance. "The arts are extremely important in terms of communication and healing," she says. "These connections are beginning to be validated through research."
Richardson and Matza-Haughton want to continue to make connections with other creatives in the community on behalf of Arts for Health Sarasota-Manatee. Not too long ago, they met with representatives from New College to talk about how students can use creativity in their eventual work lives and discuss potential internships. "We want to foster relationships that could lead to paid work for our members, and educate people about the benefits of the expressive arts in their health and well-being," comments Richardson.
Live Theater
Participating in theater, especially musical theater, is one of the best ways to engage people with disabilities, special needs, and vulnerabilities. Sarasota County is a goldmine of opportunity for this population.
For Special Needs Communities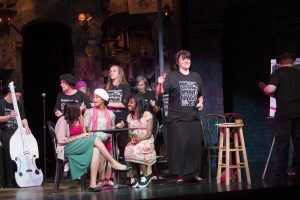 The VIP Performing Arts Program at Florida Studio Theatre is provided free of charge to people with physical, mental, emotional, and behavioral challenges. Special needs teacher Gary Halperin's daughter Hannah, who has Down Syndrome, has been in the program for four years.
"Theater and dance are right up her alley, she absolutely loves it," he says. "Hannah has gained so much from interacting with others who have a variety of special needs and are of different ages; they have formed a real community. My wife [Roseanne McCabe] and I love to see her happy and interested in something."
Venice Theatre has had a partnership with the Loveland Center for 25 years. Prior to the pandemic, the collaboration gave students with intellectual/developmental disabilities the opportunity to learn life skills through theater study. The company also has its own Creative Dramatics class for adults with intellectual and developmental disabilities, and a partnership with the Boys & Girls Club of Sarasota County to learn about performing, lighting, sets, sound, and costumes.
Director of Education and Outreach Sandy Davisson sees online offerings as a blessing.
"Our virtual classes have increased the health and well-being of all of our students, especially during the time of COVID-19," she says. "We've heard from many students about how our classes have kept them active and engaged during a time that is quite challenging for them. It's so healing."
In the Schools
Asolo Repertory Theatre's free Kaleidoscope program celebrates the unique voice and creative expression of individuals with disabilities through the performing arts. Pre-pandemic, rehearsals and classes took place, residency-style, in school and community settings in conjunction with partners such as The Haven and Oak Park School, culminating with final rehearsals and a performance at the Asolo Rep. They have pivoted to an online program with the Easter Seals STARS group.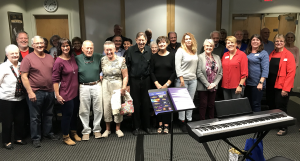 "Our teaching artists create a safe and supportive environment where we encourage different modes of self-expression through dance, music, and acting," says Sara Brunow, Muriel O'Neil Education & Engagement Director. "Everybody gets a full musical theater experience. We love this program and intend to grow it in the future."
One of the original founders of Kaleidoscope is professional actress Ann Morrison, now co-founder and artistic director of SaraSolo Productions. She works with Easter Seals of Southwest Florida to use solo theater to help adults with special needs build skills for employment and personal life. For the past three years, Morrison has brought SaraSolo's education program, SoloSynergy, to both Booker Middle and High School VPA programs.
Plans are underway to partner with the Sarasota Military Academy and ALSO Youth, a safe place for LGBT Q+ young people.
Morrison feels that everything that SaraSolo does is healing. "Many of our participants in SoloSynergy bring profound topical issues to the fore," she says. "They are vulnerable and need a safe place to create, and an audience that is sophisticated and loving."