Kathleen suggests creating a Mandala of Emotions
From Kathleen Horne, MA, LMHC, REACE, REAT, Certificate Training in Expressive Arts,
Expressive Arts Florida Institute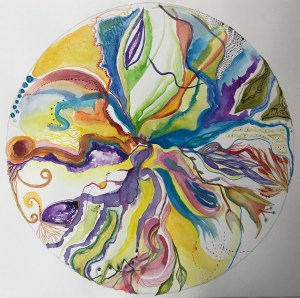 Use a fairly large sheet of paper if you have one. Any size will do. Trace a circle on it using a large plate or something else that is round.
Lay it out somewhere, on a table, or tape it to a board, then draw on it with some markers, pens, colored pencils, or whatever you have, nearby. Use this as a place to "put" ALL your feelings, as they arise. Use marks, lines, shapes, colors, words, images. Let this mandala be the "receptacle" of your emotions. It is OK not to even give those emotions names. Just allow them to be expressed through the materials.
Keep working on it as long as you need to, days, or weeks.
Your mandala will hold it all, and it doesn't have to be pretty Let it be authentic.
Adaptation: make it collaborative. Invite your family members or
members of your household to join in.