Theatre Performance Promotes Positive Health Outcomes
by Lisa Richardson in collaboration with Hedda Matza-Haughton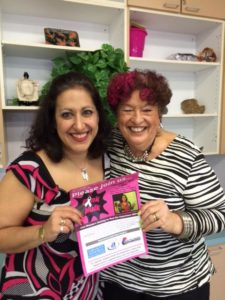 Valerie David, writer and performer of her autobiographical one-woman show "The Pink Hulk: One Woman's Journey to Find the Superhero Within," gave an abridged performance of her play at Jewish Family and Children's Service of the Suncoast's Cancer Support & Wellness Center (JFCS), which was followed by a talk-back, moderated by Hedda Matza-Haughton, LCSW, co-chair of Arts for Health Sarasota-Manatee (AFH S-M). The February 1st event was sponsored by AFH S-M, JFCS, and Sarasota Memorial Health Care System's Institute for Cancer Care.
Valerie explained that writing her story helped her to emotionally heal from her own cancer experiences. Performing her words, her thoughts, and her reality in front of other cancer survivors and their caregivers brought forth a sense of community. She and they are not alone on this journey of surviving. "My goal with 'The Pink Hulk' is to inspire and touch anyone facing any sort of adversity in their life—not just from cancer. I want people to know hope and humor exist in even the worst of circumstances," Valerie said. She added that audience members who have not been affected by cancer have approached Valerie after her performances to tell her how inspired they were.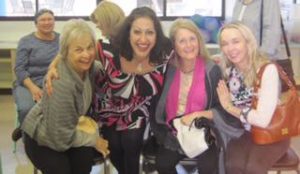 Valerie's story would not be as impactful if she had merely stepped up to a podium and lectured about her shock, fears, and concerns. Her movements, like a dance, embody her feelings and her determination, capturing her audience's attention, keeping them enthralled, and engaging their imagination. Hearing the tonal changes of her voice as she spoke with fear, anger, and, at times, sarcasm, activated her audience's listening skills, engaging their minds. The visual and auditory experience allowed the audience to be in Valerie's play, to understand and remember their own feelings, and to feel less isolated. The performance also allowed others, who may have little knowledge of dealing with cancer, to truly see the emotions with which some are all too familiar. Valerie's solo show shares a universal message of hope and inspiration to such a degree that her audience has expressed new feelings of motivation in their life.
After the performance, Valerie's audience shared a sense of validation about their individual experiences, the emotional roller coaster they ride, and the courage and strength of all cancer survivors and their loved ones. "The humor in Valerie's performance helped to 'take the edge off' the emotional pain that comes with a cancer diagnosis," Hedda, moderator and two-time breast cancer survivor, noted. "The audience used the opportunity of the performance and discussion to be open and talk about their cancer, not hiding their feelings that can, at times, be misunderstood or ignored. They were comfortable enough to share intimate experiences after witnessing her show, which offered a safe space to talk, to be heard, and accepted."
Arts for Health Sarasota-Manatee promotes the integration of arts and health. "The Pink Hulk" performance illustrates the relationship between drama and positive health outcomes—physical, emotional, and spiritual. "This performance for cancer 'thrivers' and their loved ones had a positive effect on our emotional and spiritual well-being," Hedda explained. "Each person felt closer to one another after the performance and talk back," she added
Bambi Furtado, LMHC, who is the director of the Cancer Support & Wellness program for JFCS, said that several individuals in the audience approached her following the performance and expressed their appreciation for hosting the program. They each shared how impactful Valerie's comedic drama was to them. Women and men alike expressed that her compelling play validated their own experiences with cancer. Bambi commented, "one woman observed that she[Valerie] has grit." Bambi stated, "Bringing such a dynamic and meaningful program to Cancer Support & Wellness was a great gift to all who were able to attend."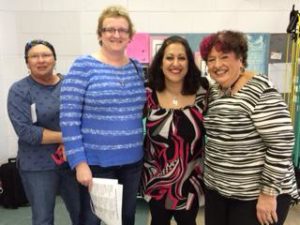 Elizabeth Bornstein, MSSA, LCSW, OSW-C, an Oncology Clinical Counselor for Sarasota Memorial Health Care System's Institute for Cancer Care and Advisor to the Board of Arts for Health Sarasota-Manatee commented, "There is a growing body of research supporting that arts-based activities decrease distress and improve the overall well-being of people facing cancer." Elizabeth also shared, "Bringing "The Pink Hulk" program to JFCS was a great collaboration of many who believe in the positive benefits of arts and health integration, and "The Pink Hulk" program was all that we hoped it would be!" She added, "Valerie's performance and the follow-up discussion deeply touched and provided validation for the participants who are each navigating their own very personal experiences with cancer treatment and survivorship." "The Pink Hulk" is directed by award-winning director Padraic Lillis. Visit http://pinkhulkplay.com/ for more information and upcoming performances.